Over the past few months, the Department of Defense has been surveying service members and their families, asking them their opinions about serving with openly gay comrades. Some of the questions leaked and they were condemned by certain gay rights groups. Then, some of the results were leaked and they were lauded by certain gay rights groups. Though I have not seen an advance copy, it appears that a vast majority of surveyed service members that responded think that lifting the ban on openly gay service would either improve unit cohesion, morale and readiness or not change anything. Many do not seem to care. And, that makes sense. Many of our service members have served alongside gay comrades knowing full well who was next to them.
A word of caution, though. The full report — several hundred pages long — is likely to give fodder for arguments on both sides. Only 28% of those surveyed actually responded, so the report cannot be said to reflect the entire force. There are sizable numbers of respondents who do not want the ban lifted, and many of them are in the Marine Corp. A former marine and current instructor at Quantico explains why here.
Also, let's keep in mind what the Senate is actually doing. The Senate Armed Services Committee is holding hearings on repealing DADT as part of the 2010 Defense Re-authorization Bill. The amendment does not repeal DADT immediately. It gives the President and Secretary Gates the power to end the policy some time in the future, once the military has had sufficient time to implement repeal in an orderly fashion. So, this week, we will not see an end to DADT. We won't even see a vote. The Senate is beginning its debate. To the administration's credit, DADT discharges have stopped and military leaders have expressed their support for repeal. President Obama has pledged significant involvement in this vote and his new DADT discharge policy, together with his approach to build political support within the military, may prove to be the best approach.
When the report comes to Congress and Senator Carl Levin (D-Mich.) opens the hearings, we should expect near unanimous support for repeal from the Democratic senators on the Armed Services Committee and virulent opposition from Senator John McCain (R-Ariz.). Senator McCain's pretzel twisting and inexplicable daftness on this topic is upsetting, but not entirely unexpected. His "maverick" label was always a misnomer, hiding a highly conservative Senate voting record.
Don't Ask, Don't Tell repeal will hinge on a group of ten so-called moderate senators who are either waiting for the report or who have signaled they would vote to repeal if a full debate were allowed. Sens. Dick Lugar (R-Ind.) and Susan Collins (R-Maine) have already signaled support, while Olympia Snowe (R-Maine), John Ensign (R-Nev.), James Webb(D-Va.) and others may join repeal efforts after reading the report. There are a few wild cards out there. The newly minted Independent senator from Alaska, Lisa Murkowski, has indicated that she would not hold up the Defense Re-authorization Bill simply to keep the ban on openly gay service. Senator Mark Pryor (D-Ark.) has already signaled his opposition to repeal, but look for his erstwhile colleague, the outgoing Blanche Lincoln (D-Ark.) to vote for repeal. She has nothing to lose at this point. Scott Brown (R-Mass.), once the darling of Tea Party right, will likely vote for repeal. He is up for re-election shortly and Massachusetts is overwhelmingly in support of openly gay service. To his credit, Senator Brown is doing is best to appeal to the center of Massachusetts politics, and a vote to end DADT will go a long way to solidify that support.
That leaves us with a few new senators — Mark Kirk (R-Ill.), Joe Manchin (D.-W.Va.) — and a few old senators — George Voinovich (R-Ohio), Kit Bond (R-Mo.) and Judd Gregg (R-N.H.). The senate freshmen are wild cards: they don't have to worry about voters for six years, but both just survived brutal campaigns. Senator Kirk staked out some moderate positions during the campaign and Senator Manchin famously shot the health care bill with a shotgun. I admit that I am not sure where that leaves us with them. However, expect Senator Voinovich to vote the Bill through with a DADT repeal. He is an old-time moderate who believes that the Senate has to function well. Senator Bond is a conservative through and through, so I expect him to support Senator McCain's filibuster. Senator Gregg is a wild card. New Hampshire just elected an overwhelming majority of Republicans to its state legislature, so I am inclined to think his conservative bona fides will be burnished on this vote.
By my count, seven of those senators will vote to repeal DADT, three will support the filibuster and three are wild cards. Stay tuned…
Ari Ezra Waldman is a 2002 graduate of Harvard College and a 2005 graduate of Harvard Law School. After practicing in New York for five years and clerking at a federal appellate court in Washington, D.C., Ari is now on the faculty at California Western School of Law in San Diego, California. His areas of expertise are criminal law, criminal procedure, LGBT law and law and economics. Ari will be writing biweekly posts on law and various LGBT issues. 
Follow Ari on Twitter at @ariezrawaldman.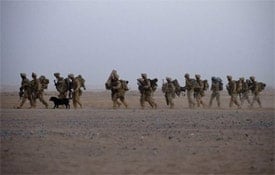 Emerging from our Thanksgiving food comas, we sit, waiting. We wait for the Pentagon's report on "Don't Ask, Don't Tell," due out today, November 30 (one day ahead of schedule — in about an hour). And, we also wait for oral arguments in Perry v. Schwarzenegger, the Prop 8 case, on December 6. It's a big couple of days. Therefore, I'd like to take this opportunity to summarize what we might see come out of the DADT hearings. In a second post on December 6, I will discuss what might come out of the oral argument. In a follow up post, I would like to raise one compelling question that bridges these two topics together – What, if any, is the role of popular opinion in the recognition of gay rights?
Here's the briefer: The Senate Armed Services Committee will soon begin debate on repealing DADT as part of the Defense Re-authorization Bill. It has waited for this report to be released to do so. And, leaks from the report seem to indicate that most service members would either welcome open service or simply would not care. I expect repeal. 
A more detailed summary, some analysis and some questions AFTER THE JUMP…