Gatecrasher reports that Bravo head Andy Cohen wants a piece of LOGO's widely-criticized 'A-List' territory: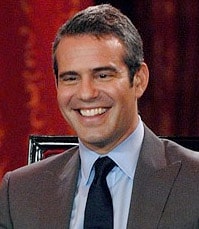 One insider says the Bravo series will focus on a cast of New York gay men who are more successful than those on "The A-List."
Even the show's tentative title sounds like an act of one-upmanship: "From the Bottom to the Top" – a blush-inducing double entendre that makes "The A-List" promotional tag line, "Housewives … With Balls," seem prudish.
The same source says the Bravo show hasn't finalized its cast, but the cable network is now working with Factory PR founder Mark Silver, book publicist Kenneth Gillett, interior designer Jordan Carlyle, fashion showroom owner Joey Giuntoli and Penguin designer Kristopher Haigh, who's also the promoter of a popular gay night at The Park in Chelsea.
Another insider says Bravo has kept the show cloaked in CIA-like secrecy by warning "the boys" that "if they gossip," their continued involvement in the cast "could change." So, not surprisingly, none of the cast members returned our calls by deadline, save for Silver, who declined to comment. Bravo also had no comment.
UPDATE: Andy Cohen denies Bravo is developing a show with that title.