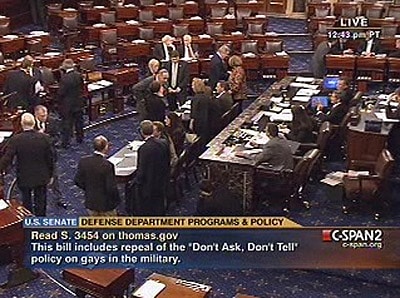 The Senate has rejected S3454, the Defense Dept. appropriations bill containing a measure approving repeal of the military's "Don't Ask, Don't Tell" policy by a vote of 57-40
GOP Senators Scott Brown, Olympia Snowe, Mark Kirk, Lisa Murkowski, and Democrat Joe Manchin all voted "no" on the measure. Senator Susan Collins, after leading the Republican charge against the bill, voted "yes".
The vote was preceded by an exchange between Senate Majority Leader Harry Reid and Collins, in which they publicly aired their inability to come to terms on an agreement to vote on the measure.
The Courage Campaign has a semi-transcript of their exchange.
A disappointing and shameful day in American politics and civil rights. I guess HRC was lying when, after anger from the grassroots that there was no leadership form the President or Congress on the issue, they claimed there was a clear path to repeal.
I'll have the full roll call posted as soon as it's available. HERE IT IS.
Said Alexander Nicholson, Executive Director of Servicemembers United and a former U.S. Army interrogator who was discharged under "Don't Ask, Don't Tell' in a statement:
"This was a major failure on the part of the Senate to simply do its job and pass an annual defense authorization bill. Politics prevailed over responsibility today, and now more than one million American servicemembers, including tens of thousands of gay and lesbian troops, are worse off as a result. Since the votes are there in isolation, the Senate should still consider a stand-alone bill to repeal the 'Don't Ask, Don't Tell' law before adjourning for the winter holidays."
Watch CNN announce the results and discuss the vote, AFTER THE JUMP…