Bill Donohue, whose anti-gay crusades include getting a gay Smithsonian art show censored, have wrongly scapegoating gays as the problem for sexual abuse in the Catholic church, campaigning against gay adoption, condemning Kathy Griffin, slobbering over gym bodies, and attacking Towleroad, gets paid handily for his efforts.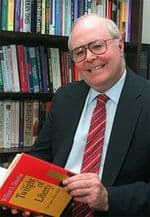 "Controversial Catholic League president William Donohue – whose work has now gained the support of the president of the U.S. Conference of Catholic Bishops – earned a salary of $342,500 in 2009, with an additional $56,656 in fringe benefits. According to annual IRS Form 990 filings, the organization spent more than $2.6 million in 2009, despite the fact that its program work constitutes little more than the issuing of inflammatory press releases."
It's bad work if you can get it.
"The IRS filings list other examples of lavish spending. The organization shells out $335,914 for its midtown Manhattan office space, and compensates vice president Bernadette Brady to the tune of $203,727. An additional $57,826 is spent on office equipment."