The military is set to draft regulations concerning implementation of repeal of the "DADT" policy, the AP reports:
"The rule changes under discussion won't dictate how troops feel about the change, but will strictly enforce how they act on it."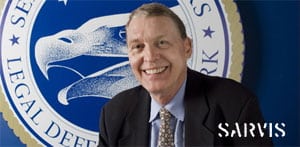 The AP notes that the recent Pentagon report gives hints on what is to come:
And it puts the heaviest burden on commanders who will have to walk a fine line between enforcing the updated code of military conduct and recognizing when they may need to make some concessions.
The plans call for strict and immediate action when the new rules are violated. But there is also an emphasis on educating troops who are having problems. For example, in a series of vignettes listed in the report, the first course of action is often counseling.
What if a recruiter refuses to process recruits who say they are gay? What about a sailor who requests a new sleeping area to get away from a gay roommate? Can a service member file a complaint against a chaplain who preaches against homosexuality? And can a gay or lesbian service member get leave to travel home when their partner is ill?
In each case the recommended process is careful and deliberate. The recruiter and the sailor should be counseled about the new rules – but in both cases commanders have the authority to approve a move if they believe it's necessary in order to maintain unit stability. And, yes, chaplains can still preach what they believe.
The health and social benefits, however, are a murky area that Pentagon officials say they are trying to work through.
SLDN executive director Aubrey Sarvis today renewed his calls to the Defense Sec'y to suspend discharges and advised service members to stay in the closet for now:
We need the media's help to let troops know they remain at risk under the law even after the President signs the bill. The Pentagon just released new guidence that made clear 'Don't Ask' may still be the law for some time to come. We respectfully renew our call for Defense Secretary Robert Gates to use his authority to suspend all 'Don't Ask, Don't Tell' investigations during this limbo period. Until the President signs the bill, until there is certification, and until the 60-day implementation period is over, no one should be investigated or discharged under this discriminatory law. Certification and the implementation period must be wrapped up no later than the first quarter of 2011. The bottom line: for now, gay, lesbian, and bisexual service members must remain cautiously closeted."