Senator Sam Nunn, who spearheaded opposition to lifting the ban on gays in the military in 1993, a campaign which led to the implementation of 'DADT', tells the AP that the measure should be repealed.
Back in June 2009, Nunn told Politico that  it was "probably time to take another look" at the ban, but this position goes further.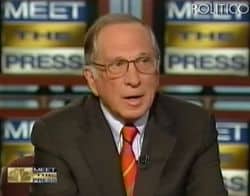 In an interview this week, Nunn told the Associated Press that the law known as "don't ask, don't tell" should be overturned as long as there is enough time to prepare the troops for the change. He said the Pentagon should be given at least a year before the repeal takes effect to ensure operations in Afghanistan aren't affected.
"Society has changed, and the military has changed," the former senator from Georgia said.
****
Nunn said in the interview that he was swayed by the chiefs' testimony that repeal could be done as long as the Pentagon had enough time to prepare.
"That's a huge change" since 1993, he said. "I think that makes a big difference in perceptions of fairness and legitimacy in the law."
To follow news on 'DADT', check out our HUB. And "LIKE" it to follow updates on Facebook.