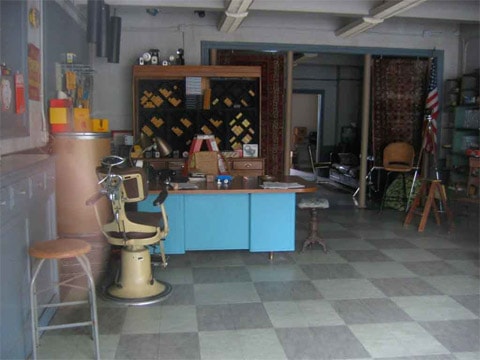 575 Castro as recreated for the Gus van Sant biopic Milk.
Activists and friends of Harvey Milk are speaking out for and against the Human Rights Campaign's planned rental of Milk's old camera shop at 575 Castro Street. The group plans to use it as a retail shop and action center.
(Cleve Jones photo by Brian Kusler)
Writes The Bay Area Reporter: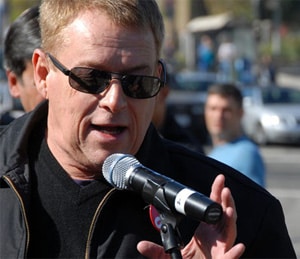 While Dan Nicoletta, a photographer who befriended Milk, said he feels HRC's being in the historic retail location is "an awkward fit," he does not see a need to "police" who control's Milk's legacy.
"Even though lots of people who were/are the antithesis of what Milk stood for continue to brazenly co-opt his name on a regular basis, the 2010 truth of the matter is that Harvey's legacy is everybody's now," wrote Nicoletta in an e-mailed response. "I hope that this new HRC location will truly be an action center as the press release states and not simply a cottage industry. The countless visitors to San Francisco's LGBT mecca need something more than a T-shirt or a coffee mug to take home to their respective struggles, hopefully HRC will do its part to honor the legacy which it seeks to represent in this instance and provide that."
But in interviews with the Bay Area Reporter, Milk confidante Cleve Jones (pictured) and his former speechwriter Frank Robinson, as well as screenwriter Dustin Lance Black, who won an Academy Award for his biopic about Milk, lambasted HRC for using Milk's legacy for its own financial gain.
"To start selling Harvey Milk coffee mugs, Milk condoms, whatever merchandise … for God's sake no. It is a cheapening of Harvey's image," said Robinson, who lives nearby the store. "Harvey essentially gave his life for the gay community and for anybody to go in there and make money off of his image by selling cheap trinkets, I am sorry that is a no-no in my opinion."
Jones said that anyone who knew Milk and what he stood for would never equate his brand of progressive, grassroots political activism with the Human Rights Campaign, long criticized as being more interested with having access to Democratic political leaders than pushing for LGBT rights.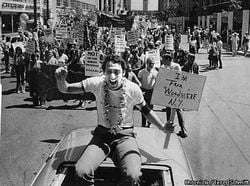 San Francisco-based activist Michael Petrelis called HRC's rental of the shop "gay perversion".
"In taking over the lease of Harvey's old shop, HRC is showing us again how desperate they are to develop some bona fide grassroots credibility, by moving half a block in the Castro from their current "action center's" location. That move will not transform HRC into an effective advocate for the gays. That center, BTW, has never been the site for an open forum or series of meetings by HRC's San Francisco local organizing committee. It's just a gift store outlet whose sole purpose is to take local gay dollars and ship them to DC, to pay for HRC's headquarters and robust executive salaries."
The Log Cabin Republicans of San Francisco also blasted the move, arguing that Harvey Milk worked for both Democrats and Republicans and HRC does not. Said LCRSF president Dan Brown.
"Harvey Milk supported both Republican and Democratic candidates throughout his life, and continually sought to reach consensus on both sides of the aisle for the benefit of us all. He tried to get everyone involved in fighting for their rights, whether by volunteering, lobbying, protesting, running for office, talking to friends, coworkers and family, and yes, even fundraising. If HRC, as the largest LGBT rights organization by funding, took a page from Harvey's book rather than relying on empty promises from elected officials that rarely materialize, then we would be much closer to full equality than we currently are."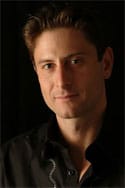 At least one activist (who is also a former spokesman for HRC) is defending them. Wayne Besen (right), of Truth Wins Out, scolded Black, calling his criticism a "cheap shot" at the organization:
"It is disappointing to watch Black throw a petty little tantrum that is unworthy of his honorable reputation. If he does not like HRC that is his prerogative. However, the answer is to start an organization of his own, not take underhanded swipes at our nation's largest LGBT group. As Black must know, real estate is quite pricey on San Francisco's Castro Street. The alternative to HRC running this store is to have a bland chain outlet take over the space that offers no value to the LGBT community. At least HRC has an action center, where people can make a difference by reaching out to their elected officials."
Besen also takes issue with the LCR:
"The Human Rights Campaign has endorsed many Republicans over the years, even at the price of alienating much of its liberal base. The only reason that HRC has not embraced more members of the GOP is that they are so crappy on LGBT rights that they are not worthy of support."
To follow news on Harvey Milk, check out our HUB. And "LIKE" it to follow updates on Facebook.