A gay coal miner in West Virginia is suing his employer, a subsisdiary of Massey Energy Co., for on-the-job anti-gay harassment. Here's what Sam Hall (not the miner pictured) claims he was subjected to: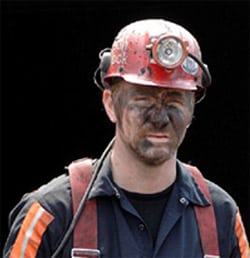 After Hall went horseback riding with a co-worker, the mine's superintendent, Scott Lansenese, allegedly said that Hall had a "Brokeback Mountain" moment, a reference to the Academy Award-winning 2005 film about the relationship between two gay cowboys.
The alleged harassment continued at Spartan's No. 130 Mine, where Hall began working in June 2007, according to the suit. Mark Delung, a chief electrician, used homophobic slurs and wrote them on Hall's dinner bucket and then mine's power center, Hall alleges. When he complained, and management told Delung to stop, the harassment escalated, including vandalism of Hall's car, where co-workers attached a sign that read, "I like little boys," according to the suit.
 When Hall went to work at No. 2 Gas Mine, he was again submitted to abuse, according to the suit. Co-workers allegedly shook their penises at Hall underground, and when they were told to stop or be fired, the situation escalated, with slurs being written on his locker.
For three months in early 2009, Hall worked at No. 5 Block Mine, where the superintendent knew him from the Winifrede mine and would laugh at the abuse directed at Hall, the suit maintains. Hall became worried when the slurs escalated to violent threats, including "I would like to see all [expletive] die."
Hall claims management was negligent in its response to his complaints about the harassment. The energy company's president Shane Harvey responded, "They are serious allegations, and we take them seriously. We are going to investigate it, and if any of them are true, we are going to take action swiftly to remedy the situation. However, at this stage, they are just allegations, and we are going into the investigation with an open mind."
The suit seeks "unspecified damages for lost wages and emotional distress."
(image source)