Elizabeth Edwards has stopped cancer treatments and her family is by her side after her health took a turn for the worse, the NY Daily News reports: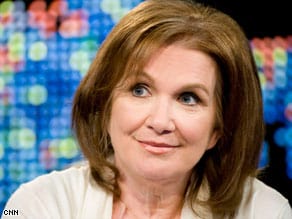 The wronged wife of the 2004 Democratic vice presidential nominee posted what read like a goodbye on Facebook:
"The days of our lives, for all of us, are numbered. We know that," she wrote. "I have been sustained throughout my life by three saving graces my family, my friends, and a faith in the power of resilience and hope," Edwards said. "These graces have carried me through difficult times and they have brought more joy to the good times than I ever could have imagined."
The Edwards family in Chapel Hill, N.C., released a statement saying that doctors told her any further treatment would be "unproductive." "She is resting at home with family and friends," the statement said.
ABC News reported the former senator was also by his estranged wife's side."
Edwards was diagnosed with cancer in 2004. She reportedly was hospitalized over Thanksgiving but has returned home after receiving word that the cancer had spread to her liver.
Added Edwards in her Facebook message: "It isn't possible to put into words the love and gratitude I feel to everyone who has and continues to support and inspire me every day…To you I simply say: you know. With love, Elizabeth."