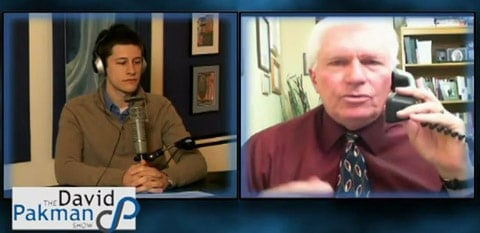 David Pakman destroys the American Family Association's Bryan Fischer in an interview in which he asks Fischer to respond to the Southern Poverty Law Center's designation of the AFA and other groups like the Family Research Council as hate groups.
Fischer claims the SPLC are the real haters: "The SPLC is peddling falsehoods, so they should be on their own list."
Watch Pakman's excellent interview, AFTER THE JUMP…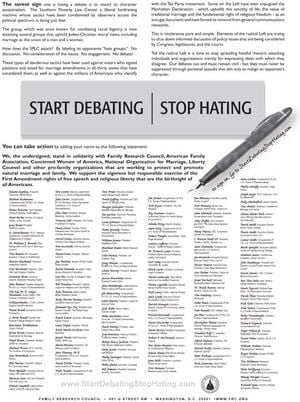 Yesterday, the Family Research Council published a full-page ad in Politico and the Washington Examiner signed by conservative leaders and lawmakers fighting back against the SPLC's designation.
The ad, reads, ""We, the undersigned, stand in solidarity with Family Research Council, American Family Association, Concerned Women of America, National Organization for Marriage, Liberty Counsel and other pro-family organizations that are working to protect and promote natural marriage and family. We support the vigorous but responsible exercise of the First Amendment rights of free speech and religious liberty that are the birthright of all Americans."
PDF HERE.
Alvin McEwen notes some of those who signed: "The open letter was signed by many current and former elected and government officials including Speaker-designate John Boehner, Majority Leader-elect Eric Cantor, U.S. Reps Mike Pence (R-IN), Michele Bachmann (R-MN), John Carter (R-TX), John Fleming (R-LA,) Trent Franks (R-AZ), Louie Gohmert (R-TX,) Gregg Harper (R-MS), Jeb Hensarling (R-TX), Jim Jordan (R-OH), Steve King (R-IA,) Don Manzullo (R-IL), Kevin McCarthy (R-CA), Joe Pitts (R-PA), Peter Roskam (R-LA), Lamar Smith (R-TX,) Steve Scalise (R-LA,) Fred Upton (R-MI), U.S. Senators Jim DeMint (R-SC), Jim Inhofe (R-OK,) David Vitter (R-LA), Roger Wicker (R-MS), Sam Brownback (Gov.-elect, Kansas), Governor Bobby Jindal, former Governor Mike Huckabee, Governor Tim Pawlenty, former Senator Rick Santorum, Edwin Meese III, former Attorney General of the United States, and Virginia Attorney General Ken Cuccinelli."
The Southern Poverty Law Center responded: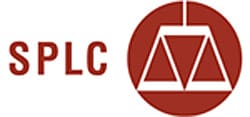 It was a remarkable performance, given that it was precisely the maligning of entire groups of people — gays, lesbians, bisexuals and transgendered people — that caused the SPLC to list groups like the FRC. Remarkable, too, was the accusation that the SPLC was avoiding debate — in fact, the very first public discussion of the issues raised by the SPLC came in a Nov. 29 debate between the FRC's Tony Perkins and myself on MSNBC's "Hardball With Chris Matthews."
Consider a few of the comments about gays and lesbians that have come from some of the groups now denouncing character assassination. The FRC, in a booklet entitled Homosexual Activists Work to Normalize Sex With Boys, has claimed that "one of the primary goals of the homosexual rights movement is to abolish all age of consent laws and to eventually recognize pedophiles as the 'prophets' of a new sexual order." The American Family Association's Bryan Fischer wrote this year that "[h]omosexuality gave us Adolph Hitler, and homosexuals in the military gave us the Brown Shirts, the Nazi war machine and 6 million dead Jews." Matt Barber of Liberty Counsel, which was not listed by the SPLC but helped organize today's newspaper ad, describes relationships between gay men as "one man violently cramming his penis into another man's lower intestine and calling it 'love.'" Officials of several, including the FRC, have called for criminalizing gay sex.
Almost all the religious-right groups named by the SPLC also have engaged in a particularly toxic and widespread defamation of gay men: The claim that they are essentially pedophiles who molest children at far higher rates than heterosexuals.
That these allegedly "pro-family" groups are going to such great lengths to defend themselves reveals that they are running scared that the falsehoods they've been pushing for years, which have endangered countless lives, are finally being exposed.
Watch David Pakman interview the AFA's Bryan Fischer, AFTER THE JUMP…