Senator Scott Brown's announced support of a stand-alone bill to repeal "Don't Ask, Don't Tell" pushes support, on paper, over the 60-vote threshold, ABC News reports: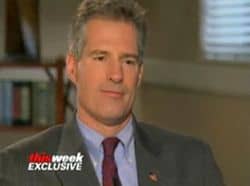 "Brown's backing means that – on paper – supporters of the repeal have 61 senators in favor of the bill. On Wednesday Republicans Olympia Snowe of Maine and Lisa Murkowski both announced their support for the stand-alone repeal. The House passed the clean repeal on Wednesday and Senate Majority Leader Harry Reid has vowed to bring it to a vote in the Senate before the end of the year."
Said Reid on Wednesday night: "The time for action is now. We plan on considering the stand-alone bill to repeal 'Don't Ask, Don't Tell' which was sent over by the House. But let me be clear. We are very quickly running out of days in this Congress. The time for week-long negotiations on amendments and requests for days of debate is over. Republican Senators who favor repealing this discriminatory policy need to join with us now to stand against those who are trying to run out the clock on this Congress."
Americablog wants Reid to stop freaking out about "time" given the Senate's recent 3-day weekend.