UPDATE: Ceremony to be held at Dept. of Interior.
GetEQUAL activist Robin McGehee tweeted a short time ago that she and Lt. Dan Choi have received invites to the White House for the signing of the 'DADT' repeal bill.
Obama plans to sign the bill on Wednesday morning.
McGehee and Choi have been involved in several anti-DADT acts of civil disobedience leading to their arrests, most notably after chaining themselves to the White House fence.
In a statement regarding the measure's repeal, posted today at the Huffington Post, Choi speaks to Obama directly:
"President Obama, you are not off the hook. The compromise bill passed today puts the moral imperative squarely on your desk. Sign an executive order instituting a full non-discrimination policy throughout the military. If you do not, if you drag your feet and politicize this with your theoretical calculations as you have these past two years, you will be guilty of abetting those who loudly proclaim homophobia from their platforms and pulpits. Provide them no shelter or safe haven. Institute justice now."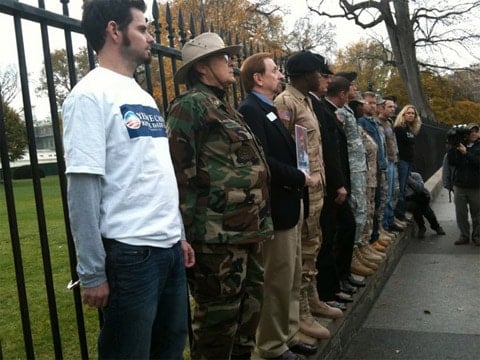 (image chris geidner twitter)