Marine Commandant General James Amos is speaking out again against "Don't Ask, Don't Tell" repeal, telling reporters in his Pentagon dining room that after reading and re-reading the Pentagon report he arrived at the conclusion that repeal of the measure would subject service members to dangers like losing legs in battle, because their combat-readiness would be "distracted" by gays serving beside them.
The Stars and Stripes reports: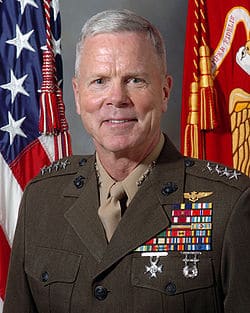 Ultimately, the voices of forward-fighting combat Marines who worried about unit cohesion in the Pentagon's survey swayed Marine Corps Commandant Gen. James Amos' attention more than any other data point, leading him to recommend that Congress not repeal the law banning openly gay Americans from military service.
"Mistakes and inattention or distractions cost Marines lives," he said. "That's the currency of this fight.
"I take that very, very seriously," he added. "I don't want to lose any Marines to the distraction. I don't want to have any Marines that I'm visiting at Bethesda [National Naval Medical Center, in Maryland] with no legs be the result of any type of distraction."
*****
On Tuesday, the commandant spoke at length about how he came to his decision in an intimate, hourlong session with a small group of reporters in his Pentagon dining room.
"This was not a flippant, rush-right-in preparation," he said. "This was a very, very deep, thoughtful — I read the report, the survey over and over again."
When pressed to explain exactly what a breakdown of "unit cohesion" could look like and why it would endanger Marines in combat, or the larger war effort, Amos said he was unsure but that the significant concern of breakdown was good enough for him.
Here's the audio.
Amos was the service chief most vocal about opposing repeal in hearings last week before the Senate Armed Services Committee. His gathering today appears to be a last-ditch effort to thwart repeal as it appears headed for a vote in Congress.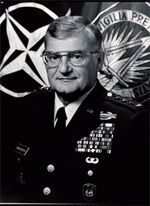 Retired General John Shalikashvili told Politico that Amos' position is ""grounded in a selective reading of the evidence." 
Said Shalikashvili: "General Amos has acknowledged that he is the only Service Chief who has not spoken to colleagues in foreign militaries about their experiences with gay and lesbian service members. Based on conversations with our overseas allies and openly gay U.S. Marines, as well my reading of the extensive research on the topic, I can say definitively that along with Admiral Mullen, I believe that repealing 'don't ask, don't tell' will improve the military rather than posing additional risk to the troops."
Servicemembers Legal Defense Network executive director Aubrey Sarvis strongly rebuked Amos' statements, calling on the White House and Pentagon leaders to bring him into line:
"General Amos needs to fall in line and salute or resign now. He implied that repeal will lead to Marines losing their legs in combat. Those fear tactics are not in the interest of any service member. The General's goal is to kill repeal no matter the consequences, perhaps at the dereliction of his other duties. He had his say before the Senate and House. General Amos needs to stop lobbying against his Commander-in-Chief, the Secretary of Defense, and the Chairman of the Joint Chiefs. If he cannot do that, the President should ask for his resignation."
Servicemembers United also released a statement condemning Amos:
"General Amos's comments about the inevitable repeal of 'Don't Ask, Don't Tell' are getting worse and worse. His commentary is moving from the realm of reasonable disagreement in the provision of professional military advice to hysteria-inducing absurdity on this topic that reflects very poorly on DOD and on the administration."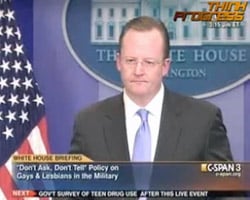 White House Press Secretary Robert Gibbs refused to condemn Amos' remarks in today's press briefing:
"I think the President as Commander in Chief has a strong viewpoint. I think backed up by the survey conducted by the Pentagon as to the attitude of the men and women in our military that this can be done in a way that strengthens our national security, preserves the best fighting force in the world, and most importantly, does away with a policy that he doesn't think is just…I think their views are very well known, just as the Commander in Chief's views are very well known. I think if you look at the Commander in Chief, the head of the Pentagon, and the head of the Joint Chiefs, you'll find unanimity in the belief that it's time to do away with this policy and that's exactly what the President is working to do."
Watch, AFTER THE JUMP…