Consuming low levels of Mercury has been found to make male ibises engage in homosexual behavior: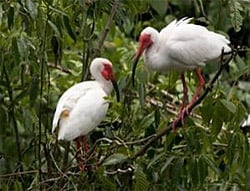 The birds were split into four groups. One group ate food with 0.3 parts per million methylmercury, which most US states would regard as too high for human consumption. A second group got 0.1 ppm, and the third 0.05 ppm, a low dose that wild birds would be exposed to frequently. The fourth group received none.
All three dosed groups had significantly more homosexual males than the control group. Male-male pairs courted, built nests together and paired off for several weeks. Higher doses increased the effect, with 55 per cent of males in the 0.3 ppm group affected. Male-male matings were responsible for 81 per cent of unproductive nests in the dosed groups.
Meanwhile the heterosexual pairs courted less and were bad at parenting – patterns of behaviour that were both already known to be caused by methylmercury poisoning. The combined effects of male-male pairing and poor performance by male-female pairs could be severe. "In the worst-case scenario, the production of young would fall by 50 per cent," says Frederick.
Not sure what to make of this although I'm not too fond of the New Scientist's "poisoned partners?" caption.