So, where are we on 'DADT' repeal? Politico has a few answers:
House Democratic leaders are cautiously moving toward a vote on a stand-alone bill that would repeal the military's "don't ask, don't tell" ban on gays serving openly in the military. A vote could come as soon as Wednesday, according to some Democratic insiders. But no decision has been made, and Speaker Nancy Pelosi's aides tried to tamp down speculation as word of preparations for the bill began to leak out."
And in the Senate?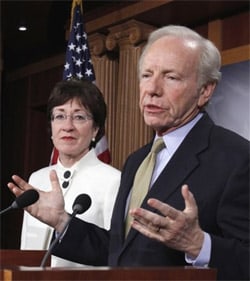 "Sens. Joe Lieberman (I-Conn.) and Susan Collins (R-Maine) announced on Thursday they would introduce a free-standing repeal bill just moments after the defense authorization bill stalled 57-40, three votes shy of the 60 needed to overcome a Republican filibuster. The two senators rolled out the new stand-alone Senate legislation on Friday and have since secured at least 40 co-sponsors, though Collins remains the only Republican. On Monday, Senate Majority Whip Dick Durbin (D-Ill.) requested the bill be allowed to bypass the committee process."
Last night, Josh Gerstein reported:
"By evening, it appeared that identically-worded bills would be moved independently in each body depending on the flow of business, rather than moving from one body to the other. House action still seemed likely to precede Senate action on the legislation, however, because of the likely need for a cloture petition and associated debate on the Senate side due to the filibuster expected from Sen. John McCain (R-Ariz.)"
Another report from TPM largely echoes what's stated by Politico, adding:
"How to get the bill moving in the Senate seems to be the sticking point. Assuming legislation to deal with the Bush tax cuts — which will move to a final vote in the Senate today after yesterday's cloture vote — gets through Congress without too much of a hitch, finding room in the tight lame duck calendar still takes work. The Senate hopes to find room to debate and pass the START treaty — no easy task — as well as the DADT repeal. Also, they want to go home for Christmas break. The National Review reported Monday that 'a senior Senate aide' said that a repeal vote will 'definitely' come before the end of the lame duck session."
Voice of America reported on the recent failed cloture vote, protests, and the possibility of Congress staying in session to repeal DADT. 
Watch it, AFTER THE JUMP….