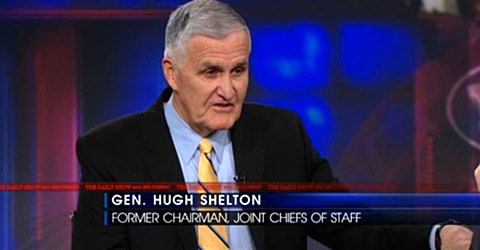 Former Joint Chiefs Chair Hugh Shelton joins Jon Stewart to talk about his new memoir, Julian Assange and Wikileaks, and "Don't Ask, Don't Tell".
Shelton says he agrees with the Chief of the Army and the Marine Commandant and is concerned by how a quick 'DADT' repeal might "break the elements" that contribute to military readiness.
In unrelated news, Shelton alleges that the U.S. considered shooting down a U.S. pilot to start a war with Iraq under the Clinton administration.
Watch, AFTER THE JUMP…