Servicemembers Legal Defense Network just announced a rally outside the Senate on Friday.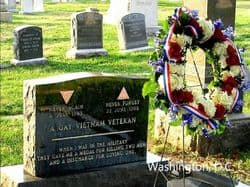 We call upon the Senate and the President to remain in session and in Washington until the National Defense Authorization Act is passed – which includes the repeal of "Don't Ask, Don't Tell." The Senate is scheduled to break for holiday vacation; we can't let them leave. We must show our rage for repeal and insist the Senate stay in Washington until they have finished the job. We implore all who support repeal to join us outside the Senate this Friday. As Secretary of Defense Robert Gates said, 'If not now, when?'
The lame-duck vote on repeal was set up and dictated by some of the same Senators – like Senator John McCain (R-AZ) and Senator Mitch McConnell (R-KY) — who are now delaying to kill the bill. They wanted the Pentagon report – now they have it. They wanted hearings – now they're done. Senate Majority Leader Harry Reid has said he is determined to pass the defense bill with repeal. Senators must not be allowed to hide any longer behind process, procedure, and tax cuts for the wealthy, while the discrimination continues.
The rally is scheduled for Friday at noon at Constitution Ave. & Delaware Ave. at Upper Senate Park.
UPDATE — The following groups have joined the demonstration:
American Veterans for Equal Rights (AVER);  Equality Federation;  Get Equal;  Human Rights Campaign (HRC);  Kentucky Fairness Alliance;  Knights Out;  MoveOn PAC;  National Gay and Lesbian Task Force;  National Center for Lesbian Rights;  OutServe Parents; Families and Friends of Lesbians and Gays (PFLAG); National People For The America Way (PFAW);  PROMO Missouri;  National Stonewall Democrats;  Swish;  VoteVets;  Young Democrats of America