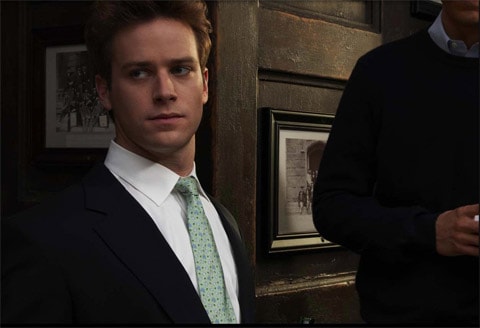 The Social Network's Armie Hammer has been cast as Clyde Tolson, J. Edgar Hoover's alleged secret lover, in the new Leonardo Dicaprio biopic directed by Clint Eastwood, Alex Billington at First Showing reports:
"As a recap, J. Edgar is Eastwood's Hoover biopic taking a deeper look at the man who founded the FBI in 1935 and is responsible for putting together an elite organization tasked with investigating and preventing the most dangerous, heinous and notorious crimes. Hoover was suspected to be gay, even though he always denied it, which is why the role of his protégé and suspected lover, that of Clyde Tolson who Hammer will play, is such a juicy one. I'm glad Hammer has landed a role like this – he deserves it. I've had the honor of meeting him, and he's not only extremely courteous and kind in real life, but he's also incredibly smart and a huge talent to watch out for in the future. I hope he starts landing more big roles like this over the next year."
Dustin Lance Black is writing the script.