UPDATED
As a follow-up to my earlier update, Igor Volsky at The Wonk Room reports: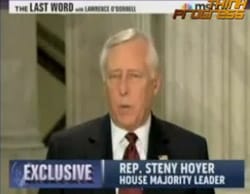 "House Majority Leader Steny Hoyer (D-MD) announced that Rep. Patrick Murphy (D-PA) will introduce a stand-alone DADT repeal bill that he will co-sponsor and bring to the House floor in short order. The legislation will be identical to the measure offered by Sens. Joe Lieberman (I-CT) and Susan Collins (R-ME) after the Senate failed to proceed to the National Defense Authorization Act last week and will include the same repeal language contained in the NDAA, which passed the House in May."
NBC's Jesse Rodriguez tweeted this morning that formal introduction of the bill in the House will take place at noon.
SLDN writes, in a statement:
"We applaud House Speaker Pelosi, Reps. Hoyer and Murphy for their extraordinary leadership in the waning hours of the lame-duck session. Let's be clear: we'll still need 60 votes in the Senate.  This 'privileged' House bill will need to pass the full House and then move to the Senate.  While we avoid a cloture vote to proceed and save time on the Senate floor, we'll still need 60 votes to complete the bill and send it directly to the President's desk.  Repeal supporters need to contact their House member to vote for repeal tomorrow.  We also need to keep the pressure on the Senate and not relent.  Time remains the enemy and Senators need to complete the bill before leaving for holiday vacation.  Get on the phone and help hold the frontlines."
Target Senators (Senate switchboard # is (202) 224-3121:
–Susan Collins (R-ME);–Olympia Snowe (R-ME);–Richard Lugar (R-IN);–Judd Gregg (R-NH);–Scott Brown (R-MA);–George Voinovich (R-OH);–Kit Bond (R-MO);–Lisa Murkowski (R-AK);–Mark Kirk (R-IL);–And the sole unpersuaded Democrat: Joe Manchin (D-WV).
Lawrence O'Donnell speculated about the proposed legislation last night.
Watch, AFTER THE JUMP…