There have been reports that Senator Susan Collins is stonewalling the process by demanding open debate and amendments: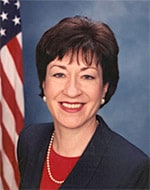 In private discussions between Collins and Reid this morning, and between their staffs over the weekend, Collins has demanded that Reid allow what's known as "unlimited debate" on the bill in order for her to vote for repeal, the aide close to the talks says.
Reid has rejected this demand, the aide continues. The problem is that this could allow any Senator to hijack the proceedings by introducing a "non-germane amendment," thus holding the floor.
Reid does not think Collins herself intends to do this, the aide continues. Rather, he worries that another GOP Senator who strongly opposes repeal, such as Tom Coburn or Jim DeMint, could take advantage of unlimited debate in this fashion to run out the clock.
A spokesman for Collins flatly denies she asked Reid for unlimited debate. Rather, the spokesman says, Collins has pointed out to Reid that the average number of days spent debating previous defense authorization bills has been 11 days, with an average of 14 or so amendments considered. Collins has asked Reid to come up with a comparable offer, the spokesman says.
No one appears to be disputing that the talks have hit a snag, though.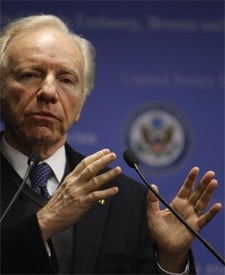 Senator Joe Lieberman says that 60+ votes are there and all that is needed is agreement on the process to move forward. He insists that Collins has been working in good faith.
"Senator Collins has been working in good faith to achieve an agreement on the process to move forward with the defense bill that contains the repeal of 'Don't Ask, Don't Tell.' I categorically reject reports by uninformed staffers who have suggested otherwise. As she always does, Senator Collins is working diligently and across party lines to find solutions to the challenges that confront our country. I call on those responsible for such baseless allegations to stop immediately and instead work to get to an agreement to bring this critical bill to the floor for Senate action.
"We are making progress toward an agreement to move forward on the defense bill that includes the repeal of 'Don't Ask, Don't Tell' and I remain confident that we can reach an agreement, which is necessary before any vote on the motion to reconsider is taken. I am working closely with Senator Reid and Senator Collins and other members who want to reach a fair and reasonable agreement to move the defense authorization bill that that is so essential to the needs of our troops, veterans, and their families.
"It is now more clear than ever that we have 60 or more votes in support of repealing 'Don't Ask, Don't Tell,' so it is vitally important to reach agreement on the right process to move forward."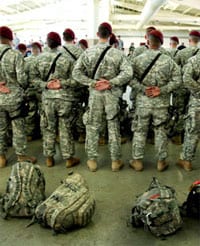 And final alternatives are being considered for the Defense bill if DADT talks fail, the Wonk Room adds:
"As of this writing, Reid still intends to bring the NDAA to a vote, which advocates of repeal say will likely fail without the support of Collins. And in a move that could be interpreted as a recognition of this reality, negotiators are moving some of the must-pass military authorizations out of the NDAA and into the continuing resolution. From CQ's John M. Donnelly:
A draft continuing resolution in the House contains several provisions that echo "must-pass" portions of the troubled defense authorization bill, setting up a backup plan in the increasingly likely event that Congress fails to clear the annual defense policy measure for the first time in nearly half a century.
Meanwhile, Chris Geidner at MetroWeekly reports that Obama is finally engaging:
White House spokesman Shin Inouye tells Metro Weekly, "The President has been reaching out to Senators from both sides of the aisle to reiterate his desire to see Congress pass the National Defense Authorization Act, including a repeal of 'Don't Ask, Don't Tell', during the lame duck."]
One advocate, however, already this morning is throwing out a warning to Reid. Servicemembers United's Alex Nicholson said Reid must be reasonable with the NDAA amendment process or "he will be intentionally throwing the vote."
PREVIOUS UPDATES…
WATCH: Harry Reid Says Vote on Defense Bill, 'DADT' 'Likely' Tonight [tr] 
BREAKING: Senate Might Vote on 'Don't Ask, Don't Tell' Today? [tr]