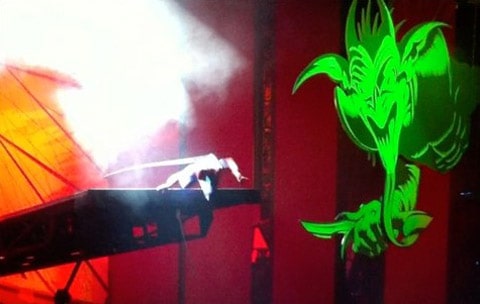 The complex and plagued-by-delay production of Broadway's Spider-Man: Turn Off the Dark had another setback last night during a preview performance when a cord attached to one of its actors snapped and the actor plunged more than a dozen feet to the stage below.
"A police spokesman confirmed that a male actor was injured at about 10:42 p.m. and taken to Bellevue Hospital Center. No other information was immediately released. A spokesman for the musical did not immediately identify the injured actor, but said in an email that it was not Reeve Carney, the lead actor who plays Spider-Man and his alter ego, Peter Parker. Other actors play Spider-Man throughout the show during various stunts and action sequences."
The actor has since been identified as Christopher Tierney. He is in the hospital under observation. 
Will this show ever be safe for the cast, or the audience?
A clip of the accident, AFTER THE JUMP…