Yesterday's meeting may appear as nothing more than an attempt at placation, but the Democratic National Committee and their grassroots Organizing for America will coordinate a phone bank next week to push Senators on repeal, and an attendee recalled White House aides saying that the President "is fully committed and will be engaged at the right time."
But the clock's ticking on this Congressional session, and some wonder whether there is indeed time to win a repeal, especially since success may rely more on Republicans than the President.
Senate Republicans have vowed not to vote on anything, including Don't Ask, Don't Tell, until Congress extends the Bush-era tax cuts for all Americans, and today voted against the Democrats' middle class tax plan because it doesn't include the nation's wealthiest families.
Democrats and no doubt the President want to use this vote to paint the GOP as a party beholdened to the rich, but would holding out for too long cost them other legislative wins and political capital? And if the Democrats give up, as many predict, will opposition senators like John McCain, who now says we can't repeal DADT because the economy's "in the tank," feel inspired to stall until the more conservative Congress gets in the ring?
With less than a month until this Congress adjourns, a long-fought civil rights battle teeters at the edge of success or gut-wrenching failure. It's a nail biter, that's for sure. Let's hope this White House meeting's a prelude to a showdown, and not a bid to buy more time.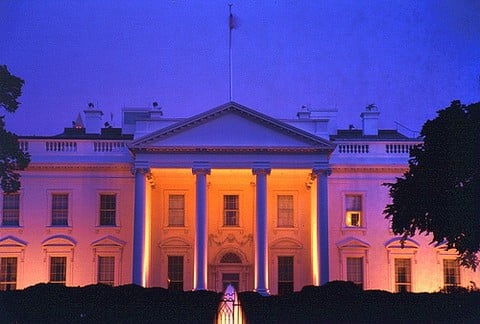 White House officials held a meeting with LGBT activists and other allies yesterday, after the Senate wrapped up Don't Ask, Don't Tell hearings, and assured them that the Obama administration remains committed to a repeal.
The event was off-the-record and the attendees, drawn from groups like Servicemembers Legal Defense Network, Human Rights Campaign, the National Black Justice Coalition, Log Cabin Republicans, and the Center for American Progress, among others, would only speak anonymously, but one guest described the administration's assessment as cheery, telling Politico, "With all the competing legislative issues and a shrinking calendar, they were very positive about NDAA and DADT repeal, and they are committed to getting it done."
Another recounted how officials insisted there were no back room deals to kill a repeal. "They fought back against all of the rumors that a deal has been cut," said the source. "They said, 'The best evidence is that we would never have sent [Defense Secretary Robert] Gates and [Joint Chiefs Chairman Mike] Mullen out there if we weren't serious about getting this done.'"
White House spokesman Shin Inouye confirmed the meeting, and described it in an email as a followup to this week's testimonies, which "[made] clear that now, more than ever, Congress can and must take action during the lame duck session to give the military the flexibility it needs to end DADT in a way that does not jeopardize military readiness."
The pow-wow, reportedly led by White House legislative affairs staffer Christopher Kang, Public Engagement director Christina Tchen and that Office of Public Engagement deputy director, Brian Bond, comes as President Obama faces growing criticism from the nation's liberal set and other allies over his "cowardly" bipartisan efforts.
Moveon.org, for example, posted a petition urging the President to "go to the mat" and "bring back the progressive fighter we all knew and supported in 2008," and the New York Times today tried to dissect the President's thought process, writing "It may be that Mr. Obama still believes that bipartisan gestures can overcome extreme policy differences." The editors continued, "But the rest of Washington woke up from that dream long ago. It has become a snare."
If that's true, what becomes of Don't Ask, Don't Tell?