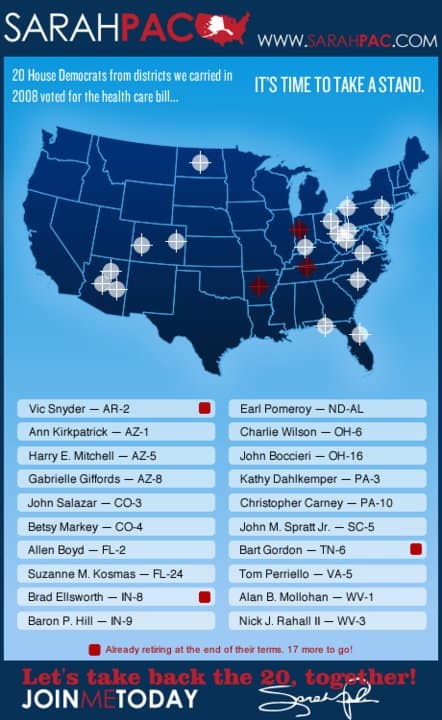 While we still don't know much about the motives of the alleged 22-year-old gunman involved in today's tragic shooting, Gabrielle Giffords' name was included on a target list put together by Sarah Palin. This list focused on ousting from office 20 members of Congress in Republican districts who voted for President Obama's health care reform bill calling for them to be replaced "with good conservatives. As you can see, sniper scope graphics blanket the "Take Back the 20" map.
Read about Palin's campaign on her Facebook page.
Giffords herself found the crosshairs disturbing. She was interviewed on MSNBC last year after her office was vandalised. Said the Congresswoman at the time, "We're on Sarah Palin's targeted list, but, the thing is, that the way that she has it depicted, has the crosshairs of a gunsight over our district. When people do that, they've got to realize there's consequences to that action."
After today's tragic events, it's quite eerie to hear Giffords say that she's "not fearful" for her safety after having her office attacked. Watch, AFTER THE JUMP.
Visit msnbc.com for breaking news, world news, and news about the economy