The Log Cabin Republicans are pressing ahead with their lawsuit against 'Don't Ask, Don't Tell' despite indications that it will be repealed in the coming months, Reuters reports: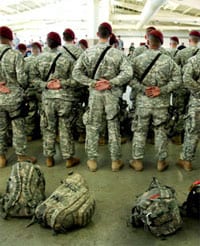 Weeks after Congress voted to repeal the law banning gays from serving openly in the military, opponents of "Don't Ask, Don't Tell" returned to court on Monday seeking to press ahead with their lawsuit against the policy.
The Log Cabin Republicans, a gay rights group that won a landmark federal court decision last year declaring the ban unconstitutional, urged the 9th U.S. Circuit Court of Appeals to proceed with its review of the legal case despite the repeal.
***
"Although a bill to repeal the "Don't Ask, Don't Tell" statute has been passed and signed by the president, this legislative 'repeal' is not yet effective," the plaintiffs wrote in their filing.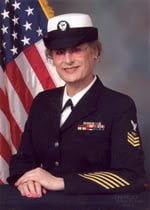 And in related news, the AP looks at the bittersweet victory of 'DADT' repeal from the perspective of transgender veterans:
The "don't ask, don't tell" policy now heading toward history does not apply to transgender recruits, who are automatically disqualified as unfit for service. But the military's long-standing posture on gender-identity has not prevented transgender citizens from signing up before they come out, or from obtaining psychological counseling, hormones and routine health care through the Department of Veterans Affairs once they return to civilian life.
So as the Pentagon prepares to welcome openly gay, lesbian and bisexual service members for the first time, [Petty Officer First Class Autumn] Sandeen is not alone in hoping the United States will one day join the seven other nations – Canada, the United Kingdom, Spain, Israel, the Czech Republic, Thailand and Australia – that allow transgender troops.
Flashback: Sandeen described the slurs she endured following her arrest last April after the 'DADT' protest on the White House fence.
"Did you see it? The nerve of it to be wearing a Navy uniform. Did you see the shim in the Navy Uniform?"
Calling transgender people "it" is clearly a way of dehumanizing transgender people. "Shim" — a term relative to "she-male" — is also a dehumanizing term to identify transgender people. President Obama, your U.S. Marshal calling me "it" and "the shim" is the equivalent to calling an African-American by the n-word, or calling a Gay-American by the antigay f-word, it is absolutely unacceptable.