The Hill reports that Rep. Duncan Hunter (R-CA) is planning on introducing legislation next week: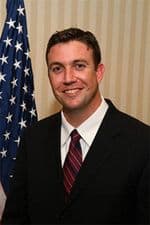 The measure by Rep. Duncan Hunter (R-Calif.) would add the four military service chiefs to the list of those who must sign off on repealing the policy before it can be officially scrapped.
Hunter, an Iraq and Afghanistan war veteran, is concerned that the bill passed in December repealing the "Don't ask, don't tell" policy "excluded the service chiefs from the certification process," said one congressional aide. 
 
The repeal bill, signed into law Dec. 22 by President Obama, requires only the OK of the president, defense secretary and Joint Chiefs chairman.
According to a congressional aide, 15 to 20 Republicans have committed to signing on to the bill.
*Apologies – an earlier photo was of Hunter's father.