Reince Priebus has been elected chair of the Republican National Committee.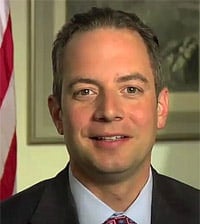 Priebus remains largely unknown to Washington's political class but is now tasked with rebuilding the committee's damaged relationship with deep-pocketed GOP donors and raising hundreds of millions of dollars to compete with President Obama's re-election campaign.
***
Priebus led his opponents from the outset but hit a ceiling of roughly 50 votes after four series of votes at the Gaylord Hotel complex just outside.
That left the rest of the field – former Bush administration official Maria Cino, former Missouri GOP Chairwoman Ann Wagner and Michigan National Committeeman Saul Anuzis – rushing into private rooms to discuss possible deals with rivals.
Their backers on the committee, meanwhile, worked the room whipping up votes, but no candidate managed to build up a bloc of votes to match Priebus.
Former RNC Chair Michael Steele dropped out earlier on Friday after realizing he would not be reelected.
"I will step aside because I think the party is ready for something different," said Steele before the fifth ballot for chairman began. He immediately threw his support to former RNC official Maria Cino's candidacy.
Even in defeat, however Steele was unapologetic about his time in office. "I hope you all appreciate the legacy we leave," he told the 168 members of the RNC. "Despite the noise, despite the difficulties, we won."
When asked about marriage equality at the RNC Chair debate on January 3, Priebus told those assembled: "It's foundational in our lives… I don't believe anybody should be denied dignity in this discussion, everyone should be loved. But at the end of the day, I believe that marriage — through the sanctity of marriage — should be between one man and one woman."