Deadspin clears this one up (via ESPN sports Radio) for the third-grader in all of us.
Sanchez: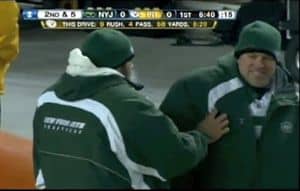 "I have been getting so many text messages and phone calls about this. He is like my big brother and we have such a great relationship and I just feel so bad that it was on TV and I got to know that. I am on the sidelines but that is the way we are. We just have fun and joke around and keep things light because that is the way I play my best. I did not want it to be a disrespectful thing, obviously, and he knew that. I called him the very next day, 'I am so sorry. I feel so bad' and he said, 'Oh don't worry about it. Only 55 million people saw you fake-wipe a booger on me.'"
"Oh no! It was like a fake. It was like a cold weather, like almost-runny-nose-not-even-a-real-booger. If it would have been there it would have been a legit booger. I don't think I could have done that to him… It was like it is cold outside and my nose is like not fully running or anything but just like a little mess around more than anything. It was more of a fake-booger-wipe if anything. If it would have been a legit booger they probably would not have showed it on TV. So that was the funny part and he just, just the way he brushed it off. 'Oh yeah only 55 million people saw it.' He was like, 'You are good.' I am so sorry. I mean he is the best. He is the best in the world and he knows I was just joking. It is just too bad, and the worst part is, I mean, I know he is going to get me back. Nobody else is going to be around to see it. It will be worse I am sure."
Clip here.