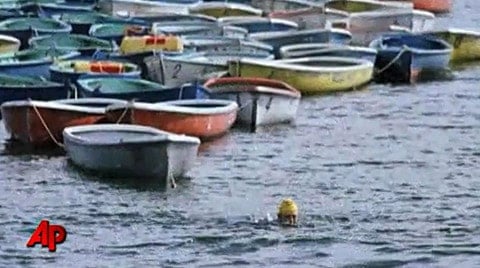 Fitness guru Jack Lalanne has died at 96, of respiratory failure following a bout of pneumonia.
"LaLanne opened what is commonly believed to be the nation's first health club, in Oakland in 1936. In the 1950s, he launched an early-morning televised exercise program keyed to housewives. He designed many now-familiar exercise machines, including leg extension machines and cable-pulley weights. And he proposed the then-radical idea that women, the elderly and even the disabled should work out to retain strength."
Neatorama has 10 facts about Jack LaLanne you might not know.
Update: A Tipster writes in to us with a passage he claims is from something called The Gay Book of Lists.
Incensed at the growing visibility of gay men in Los Angeles, the former king of television (Jack LaLanne) announced in 1979 that he planned to march down a one-mile stretch of Sunset Boulevard with a 350-pound barbell on his shoulders in order to protest the "damn queers and homos and little boy prostitutes" who has "taken over Hollywood."
I haven't been able to find anything online to corroborate this, so, I was wondering if anyone out there had any knowledge of this claim.
Watch the first Jack Lalanne Show, and the AP's report on his death, AFTER THE JUMP…