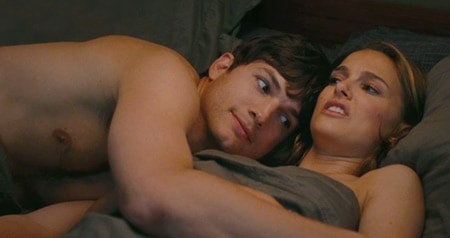 'If I cuddle with him do I lose my Oscar cred? Demi is never going to win Best Actress!'

…would live in the movie theater but for the poor internet reception. He blogs daily at the Film Experience. Follow him on Twitter @nathanielr.

NOW PLAYING
As soon as the commericals starting airing for NO STRINGS ATTACHED, the new f***buddy romcom with Ashton Kutcher and Natalie Portman, people started decrying it as Natalie's own Norbit, a reference to Eddie Murphy's Oscar loss when Dreamgirls faded while his other fatsuited performance was emerging during final balloting. Natalie probably doesn't have to worry. No matter how terrible her new film is, Oscar has never required their actresses to be serious consistent thespians. They mostly require them to be great beauties with the occasional great work in them and in this, Portman excels.
Why is Jim Sturgess (Across The Universe) bathing naked? Is he washing the Julie Taymor off of him after the bloody mess of Broadway's Spider-Man: Turn Off The Dark?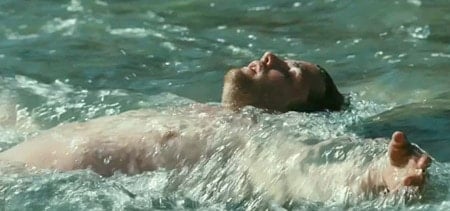 (He sure dodged a bullet there as he was attached a couple of years back.)
MORE AFTER THE JUMP…
No, he's just having his own Into the Wild moment in Peter Weir's THE WAY BACK. He's relieved to get clean. Four-thousand mile treks on foot will give you that not so fresh feeling.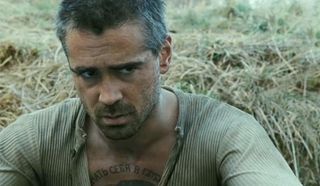 In the new film, Sturgess joins Ed Harris, Saoirse Ronan and a Russian accented, tattooed Colin Farrell as escapees from a Siberian Gulag on a long march to freedom across hostile environments. It's based on the book "The Long Walk Home". If you've ever seen a Peter Weir film you know he's fond of man veritably dwarfed by the colossal mysteries of nature or man navigating unfamiliar foreign environments  (see also: Master and Commander, Picnic at Hanging Rock, Witness, The Truman Show). The film is curiously paced as it's hard to gather proper dramatic momentum when walking…and walking… and walking. Yet the performances meet expectations given the prestigious cast and Weir will never let you leave a movie theater without at least one or two haunting images forever seared onto your brain.
BONUS FEATURES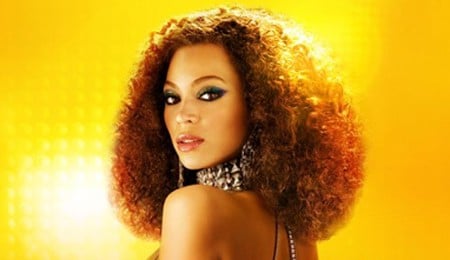 WEIRD MOVIE NEWS OF THE WEEK AWARD. Supposedly once Clint Eastwood wraps up J. Edgar he'll be shooting Beyoncé in another version of "A Star is Born". Streisand is gonna be so pissed.


Tonight is opening night for the Sundance Film Festival in Park City, Utah. Queer Lounge has provided a list of films with LGBT content though until each film starts screening, we won't know the extent of the content. One of them, Gun Hill Road, sounds a bit similar to last year's La Mission with a Latino father struggling with his teenager's sexuality.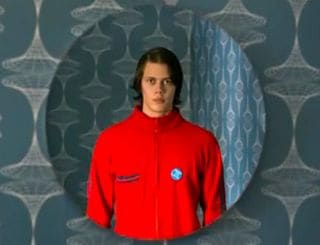 It's less than 5 days until Oscar nominations are announced but Academy news is still coming. This week they announced the nine finalists in the Foreign Film Category (you can see all nine trailers here). The gay entry from Peru (Undertow, which we've discussed) sadly didn't make the list. Neither did one of the expected frontrunners, France's true story religious drama Of Gods and Men (the French are not pleased about that). The finalists are Algeria's Outside the Law, Canada's Incendies, Denmark's Golden Globe winning In a Better World, Greece's surreal Dogtooth (now on DVD), Japan's violent thriller Confessions, Mexico's Javier Bardem led drama Biutiful (brought to you by Oscar's favorite miserabilist Alejandro González Inñáritu of Babel, 21 Grams and Amores Perros fame), South Africa's Live Above All, mother/daughter drama set in an AIDS ravaged South African township,  Spain's Even the Rain starring Gael Garcîa Bernal and Sweden's autism comedy Simple Simon starring Alexander Skarsgård's baby brother. A few of those will undoubtedly open in the first half of 2011 so watch out for them at your local arthouse.

In addition to being a Great American Actor, Jeff Bridges is also a shutterbug. Now that True Grit is a big hit and an expected Oscar contender they've compiled his on set photographs for a free downloadable app.

Finally, a big congratulations to Michael Kaplan for his Costume Design Guild nomination for Burlesque.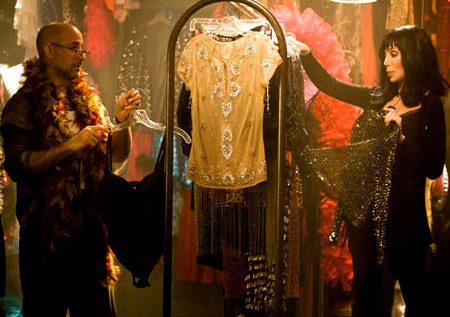 Technically those nominations were due tomorrow according to the CDG's official website but since they're already making the rounds, why not? Kaplan is one of the greats and I mention him because he's never been Oscar nominated and that ain't right. This is the man that designed the clothes for Blade Runner. So what more could they possibly need as incentive to recognize him? He did a ton of fun work in 80s and 90s in movies like Big Business, Clue, Diabolique and Flashdance and he has, one presumes, intimate knowledge of Brad Pitt's measurements having put him in that hot red leather for Fight Club, that broken wing sling in Se7en and all those form fit clothes in Mr & Mrs. Smith. Congratulations Mr. Kaplan. If you also suggested Burlesque's Famous Amos Cookies as improvised underpants for Cam Gigandet, you are a god.