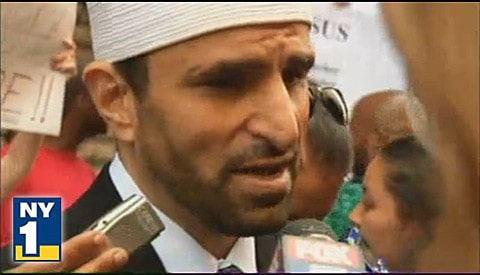 Abdallah Adhami,an imam who recently joined the Park51 Islamic Community Center in lower Manhattan recently, is drawing attention for an internet lecture in which he offers the reasons for homosexuality.
Says Adhami: "An enormously, overwhelming percentage of people struggle with homosexual feeling because of some form of violent emotional or sexual abuse at some point in their life. Again, not necessarily in their childhood….A small, tiny percentage of people are born with a natural inclination they cannot explain. You find this in the animal kingdom on some level as well."
LGBT advocates are speaking out, NY1 reports:
They are destructive. They play into old, worn-out stereotypes that somehow there is an illness to being gay," said Gay City News Editor Paul Schindler.
Schindler says that unless Imam Adhami is willing to clarify or change his views, Park51's ability to welcome everyone will be compromised beyond repair.
"It's a hostile message and one that I think attacks the dignity of gay people," Schindler said.
Some prominent gay New Yorkers say even though they find the remarks made by the Park51 imam offensive, it's nothing they haven't heard before.
"It's not a new statement, it's been made repeatedly by people who practice homophobia as a way of life. It's also unfortunately not limited to one religion," said Gay Rights Activist David Mixner.
Others say that because Adhami's words are not outright condemnation, they are progress. Adhami joined Park51 as a senior advisor earlier this month.
Video at NY1.