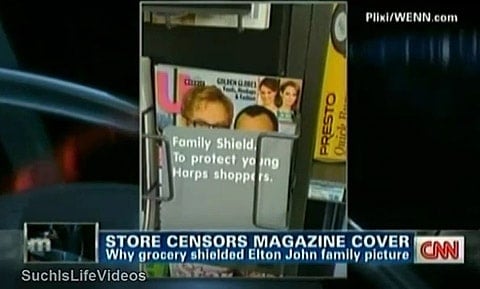 Late yesterday, Harps Foods explained why one of its grocery stores had placed a family shield over a magazine featuring gay parents Elton John and David Furnish (customer complaints). They also said the shield had been removed after review. Their explanation:
We have received a number of complaints regarding an incident in our Mountain Home store involving the current issue of US Weekly Magazine depicting Elton John, David Furnish and their newborn son. I would like to explain how this happened. For many years we have provided each of our stores with shields which can be used at the manager's discretion to cover the front of magazines when they receive complaints from our customers regarding either the photo on the cover of the magazine or the titles of articles contained within the magazine. Sometimes those photos might be sexually provocative or too revealing. The magazine article titles might also be too suggestive for some customers.
In this case our store manager received some complaints and, as has been our custom, placed the shield over the cover of the magazine. When we began receiving complaints at our corporate office, we reviewed the magazine in question, removed the shield and are selling the magazine in all our locations today without any shield.
Our true intention is not to offend anyone in our stores and this incident happened at just one of our 65 locations, which when brought to our attention, we reversed.
Kim B. Eskew
President & COO
Harps Food Stores, Inc.
Anderson Cooper spoke with Dr. Phil about this "learning moment".
Watch, AFTER THE JUMP…