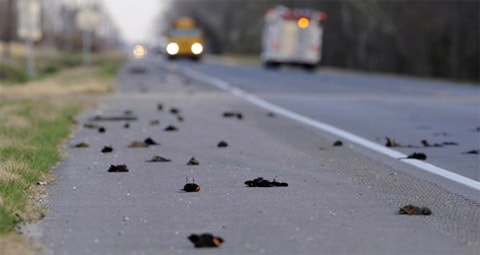 It has happened again, in Louisiana:
"State biologists are trying to determine what led to the deaths of the estimated 500 red-winged blackbirds and starlings on La. 1 just down the road from Pointe Coupee Central High School…Necropsies performed Monday on the birds in Arkansas showed the birds suffered internal injuries that formed blood clots leading to their deaths, The Associated Press reported. In Louisiana, biologists with the state Department of Wildlife and Fisheries spent part of the day Monday scooping up some of the birds in Pointe Coupee Parish to be sent for testing at labs in Georgia and Wisconsin."
LaBarre, LA is approximately 360 miles to the south of Beebe, Arkansas.
UPDATE: Kentucky too (thanks Anastasia).