Renata Seabra, the 20-year-old male model who confessed Sunday to killing gay journalist Carlos de Castro in his Times Square hotel room offered police a sick confession. The NY Post reports that Seabra told cops "I'm not gay anymore!" and that he mutilated Castro to "to get rid of demons, to get rid of the virus."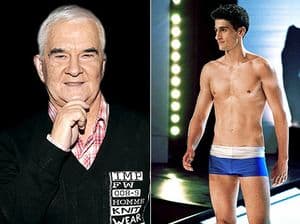 Renato Seabra, 20, told cops he used a corkscrew to sever 65-year-old Carlos Castro's genitals as a way to cure the older man of his homosexuality, the police sources said.
Seabra and Castro came to New York from their native Portugal and by all accounts were a couple – but Seabra appears unable to admit that, police sources said."[Seabra] said he did it to get rid of [Castro's] homosexual demons," one of the police sources said.
Police believe the two men had dated for several months, even though Seabra's family insisted the tanned hunk is straight. "My son was not Carlos Castro's lover," Seabra's mother, Odília Pereirinha, told a Portuguese TV station. "From the beginning, he never hid his sexuality, which is heterosexual."
Castro died of strangulation and blunt force drama to the head, but not before Seabra tortured him and mutilated his body.
According to the NYDN, "Seabra's claim to fame was as a pretty boy contestant on a top model reality show. The duo were staying at the InterContinental Hotel since Dec. 29 and hit the town together often, dining and drinking at fancy restaurants, friends said."
As Steve pointed out, All Voices reveals more about De Castro's life: "Aside from his gay rights advocacy, has worked for several television and radio stations in Portugal during his career, according to a biography page on his website. The site also notes his work for several national modeling competitions."