President Obama has released a statement regarding slain LGBT rights activist David Kato: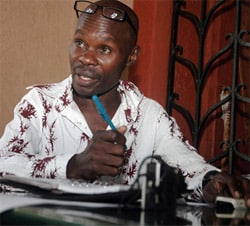 I am deeply saddened to learn of the murder of David Kato.  In Uganda, David showed tremendous courage in speaking out against hate.  He was a powerful advocate for fairness and freedom.  The United States mourns his murder, and we recommit ourselves to David's work. 
At home and around the world, LGBT persons continue to be subjected to unconscionable bullying, discrimination, and hate.  In the weeks preceding David Kato's murder in Uganda, five members of the LGBT community in Honduras were also murdered.  It is essential that the Governments of Uganda and Honduras investigate these killings and hold the perpetrators accountable.
LGBT rights are not special rights; they are human rights.  My Administration will continue to strongly support human rights and assistance work on behalf of LGBT persons abroad.  We do this because we recognize the threat faced by leaders like David Kato, and we share their commitment to advancing freedom, fairness, and equality for all.  
Secretary of State Hillary Clinton released a statement too. You an read it at Americablog…
Kato was beaten to death yesterday in his home. Back in October, the Ugandan tabloid Rolling Stone published a list of '100 Top Homos' with the directions to "hang them" written on the cover. Police are investigating.
The latest from The Guardian:
Police said there had been a spate of killings recently in the area where Kato died. Judith Nabakoba, a police spokeswoman, said the second suspect being sought was a recently released prisoner who had been living with Kato and who had made off with the victim's briefcase. "Right now this man is nowhere to be seen," she said.
But Kato's friends and colleagues believe his sexuality and work are likely to have played a role in his murder. Oloka-Onyango said Kato did not appear to have been involved in "shady business or party politics, the things that normally lead to this kind of attack".
"This is a very strange thing to happen in the middle of the day, and suggests pre-meditation," he said.
A joint statement from several civil society organisations in South Africa, where Kato lived in the 1990s, paid tribute to "our courageous queer African martyr", and said that certain politicians and religious leaders in Uganda were "at least in part responsible for this callous murder" due to their "fostering of prejudice and homophobia".