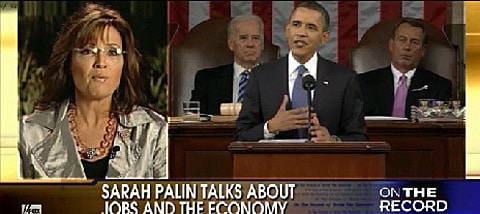 In her first interview since the "blood libel" debacle, Sarah Palin popped up on Greta van Susteren's FOX News show to debut a new acronym, calling Obama's 'Winning the Future' State of the Union speech his 'WTF' speech.
Palin praises Ryan and Bachmann's response. Why? "They were sound because they were in opposition to president Obama's message."
Palin also told Greta that the conflict within the GOP over the Tea Party is one of the reasons she loves the Republican party:
"We believe in competition even within our own party! We don't have just the fighting instincts of a bunch of sheep like I think a lot of Democrats do. Instead, we can duke it out in that marketplace of ideas within our own party and we can have individuals and individual character traits within politicians being able to be made manifest in the way that we express our views…"
WTF indeed!
Watch, AFTER THE JUMP…