LGBT political action: things to expect in 2011.

David Cicilline (D-RI) sworn in as fourth openly gay member of Congress.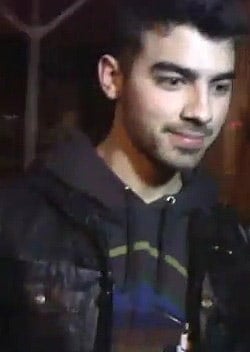 Paparazzo asks Joe Jonas if he's gay.

Open records reveal officer in NJ sex sting killing has a violent history: "Edward Esposito, the Essex County Sheriff's Office detective who shot and killed an unarmed DeFarra Gaymon in Newark's Branch Brook Park last July, may have been involved in at least three 2009 public sex arrests that also turned violent."

Chicago-based Northern Trust launches LGBT Financial Services unit: "Northern Trust recognizes the definition of family has evolved."

Facebook users uploaded 750 million photos over New Year's Weekend.

Winning Mega Millions lottery numbers bore close resemblance to Lost lottery numbers.

Rob Shuter of Popeater reports that Elton John is the biological father of the John-Furnish surrogacy: "Elton really wanted the child to have his genes," a friend of the singer tells me. "He has a god-given talent and wanted to pass that one to a child. And after years of discussion and thought, Elton and David decided together that Elton's sperm would be used."

Britney Spears single to be "unlocked" on Facebook.

Has Elton forgotten about the Ukrainian orphan he promised to help?

$396,000: Bluefin tuna fetches record price at auction. "The price for the 754-pound (342-kilogram) tuna beat the previous record set in 2001 when a 445-pound (202-kilogram) fish sold for 20.2 million yen at Tokyo's Tsukiji market. Japan is the world's biggest consumer of seafood, with Japanese eating 80 percent of the Atlantic and Pacific bluefins caught."

Lady Gaga to unveil Polaroid collaboration on Thursday.

Michelle Williams talks Heath Ledger, Blue Valentine with Kevin Sessums.

Kathy Griffin leaving The D-List: "It was a really tough decision because I think of the D-List as pretty much my baby for the last six seasons and I also think it was really time to stop doing it. Reality is great, but I really didn't set out to be a reality star. So now it's time to spread my wings and show that I'm a little different than Kate Gosselin."

Preview the new solo EP from The Gossip's Beth Ditto!

Chicago group planning LGBT Walk of Fame…

UK gay dads open surrogacy center.

Jake Gyllenhaal and Taylor Swift split.

2010 Lambda Literary Awards break records: "more books nominated than ever before—509 as of Dec. 31, with a few still trickling in—and, for the first time, enough titles submitted in Transgender and Bisexual that both categories have been split into Fiction and Nonfiction."

Ten-year-old discovers supernova.

Phoenix teen takes aim at anti-gay bullying in Arizona: "Caleb Laieski, 15, e-mailed a letter to more than 5,000 school administrators, city-council members and state lawmakers demanding improved measures to fight discrimination. The letters, sent to school and government officials in early December, state that gay and lesbian youths face more bullying than their heterosexual peers and offer to refer officials to organizations and experts. he letters warn school officials that they must institute policies specifically prohibiting gay harassment by students, teachers and administrators. Schools that fail to stop bullying will encounter 'legal ramifications.'"