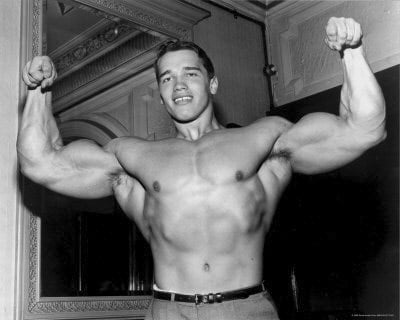 Arnold Schwarzenegger tells the Austrian newspaper Krone that he had so many posters of oiled bodybuilders on his walls as a kid that his mom took him to the family doctor because she thought he was gay. The doctor tried to calm her down by reassuring her that at least he didn't drink and smoke.
Here's  the Google translation.
And a better translation by our commenter Chris (thanks!):
"(One) of of my favorite stories from when I was young. As a young boy my room was plastered with photos of bodybuilders. Naked, oiled male bodies. That got my mother so concerned, she asked our family doctor one day to take a look at that. 'Other boys put images of women on their walls, and mine does this!' She actually believed I was gay. Well, that's nothing wrong, but for her it was unimagineable back then. However, the doctor, a wise man, calmed her down. Everyone had idols, he said, others would hang up pictures of the Beatles, even though they were men as well. "Look at it like this, Mrs. Schwarzenegger: as an athlete he surely won't start to smoke or drink!" That assured her. Her worry lines stayed though."