A Shreveport, Louisiana man is in the hospital following a brutal attack at a nightclub that witnesses say was related to his sexual orientation, KSLA reports: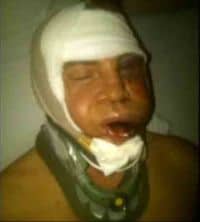 Police say 52 year old, John Skaggs was hospitalized after he was attacked at the Sandbar nightclub in downtown Shreveport.
"He's going to have some pretty serious reconstructive surgery, broken jaw, and broken bone that holds his eye socket," said the manager and owner of the Sandbar, Tim Huck.
Security personnel at the Sandbar held the alleged attacker, William Payne until police arrived.
Payne was arrested and charged with attempted 2nd degree murder and the commission of a hate crime.
"It was totally 100 percent a hate crime for this sexual orientation," said Huck.
The bar provided police with video surveillance. Huck says it's disturbing, and shows Payne who is a large man, breaking the cue stick over Skaggs' face with one powerful blow.
Huck says the attack was unprovoked: "At no point in time had he talked to the man that attacked him, bumped him. After watching the video and from witnesses they hadn't even made any form of eye contact or anything."
Watch KSLA's report on the incident and interview with the bar owner, AFTER THE JUMP…
(via jmg)