Rahm Emanuel promises LGBT Chicagoans he'll fight for them.
Nebraska judge denies divorce to same-sex couple, but rules on custody of child.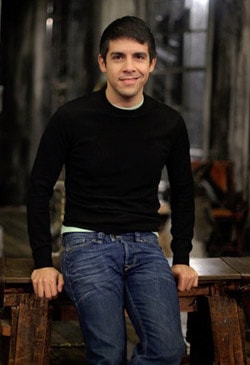 Hot playwright: The NYT offers up a profile on 33-year-old gay playwright Matthew Lopez, and his new play The Whipping Man. "How did he, a self-described 'foxhole Episcopalian' from the Florida Panhandle, the son of a Puerto Rican father and a Polish-Russian mother, come to write a play about a Jewish Confederate soldier and two former slaves raised as Jews who, in the charred wreck of a Virginia home after the Civil War, celebrate Passover together?"

Italian TV chef keeps promise to cook naked.

Milan University offers Italy's first 'gay studies' course.

Thomas Dekker talks Kaboom.

Canadian Blood Services wants ban on gay blood lifted.

Connecticut state senate campaign goes anti-gay: "Both candidates, Republican Len Suzio and Democrat Thomas Bruenn, have promised to run a campaign on the issues. But on Thursday, state Democratic Chairman Nancy DiNardo claimed that surrogates for Suzio's campaign are running a telephone push poll that indirectly attacks Bruenn, who is gay. One of the questions on the poll is, 'Would you be comfortable or uncomfortable with a state senator who is openly gay?'"

Yikes: this is not a good look for Ricky Martin.

Obama's Reagan bromance?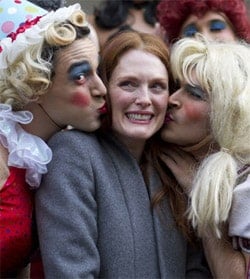 Julianne Moore is Harvard Hasty Pudding club's Woman of the Year.

Sharron Angle planning run for President? "I'll just say I have lots of options for the future, and I'm investigating all my options."

U.S. Marshall harassing 'DADT' protesters? "Ostensibly the visits are to inform the protesters of their upcoming court case in March, but I'm told by Robin McGehee of GetEqual that previous court notices were mailed to them – they've never had the US Marshal show up at their homes."

I agree with Andy Dehnart at Reality Blurred that Oprah's Behind-the-Scenes reality show on her OWN network is unexpectedly watchable.

Matthew Rettenmund interviews The Black Spark.

Apparently West Hollywood club Trousdale is so relaxing, even Leonardo DiCaprio will let his hair down, and whip it back and forth.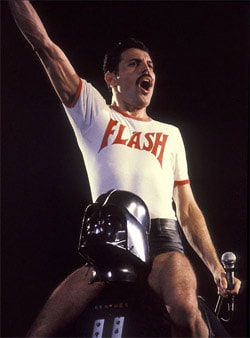 Flashback: Freddie Mercury rides Darth Vader.

Rear Admiral Alan M. Steinman, USPHS/USCG (Retired), the highest-ranking U.S. military officer to identify himself as gay, shares his story about 'DADT'. "During that entire period I remained 'in the closet': I did not reveal my sexual orientation to anyone in the Coast Guard, nor even to my relatives. In order to serve my country, I had to sacrifice my personal life."

British singer Will Young wants a baby: "I'm not seeing anyone at the moment, but I definitely am not ruling out being a father in the future. I think it would be really challenging and amazing at the same time. I think I'd go down the natural conception route with penetrative sex."

Are LGBT advocates taking the wrong approach to gay curriculums in schools by focusing on them as a way to end bullying? "Instead we should be arguing that education should be an 'objective' look at global history, and as most history classes stand now, they are curtailing crucial elements of history featuring LGBT people (or, in more cases, treating them as so inconsequential so as not to merit any academic lessons). Textbook writers shouldn't be required to portray gay people in a positive way. But they should be required to disseminate truth and contain full, factual histories."