Carlos Castro, the gay activist and author who was recently slain by a male model in a midtown Manhattan hotel, wanted his ashes left in Times Square, according to his family.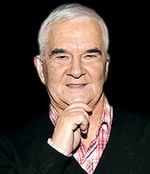 So following a funeral this weekend for 120 people and 20 members of the media, his relatives did just that, the NYDN reports:
Fernanda Castro and Maria Amelia Castro kneeled down and poured the ashes of their brother, Carlos Castro, into the grate at W. 44th St. and Broadway as onlookers walked by. Some of the ashes scattered into the wind at 'The Crossroads of the World.' …Friends said the family got permission from the city to leave Castro's ashes in Times Square. Castro wrote about his desire to have them spread there in his biography.'"
While photographers snapped away…