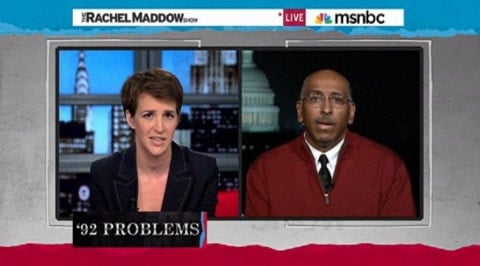 Rachel Maddow corners former RNC Chair Michael Steele about the ongoing culture wars and anti-gay initiatives that are part of the GOP agenda as much as ever, such as the Republican drive in Congress to remove D.C.'s marriage equality law.
Maddow asks Steele why anti-gay measures are front page and not the economic initatives Republicans claim to have at the top of their agenda.
Says Steele: "It's front page because it's sexy, juicy, fun to talk about."
Watch, AFTER THE JUMP…
Also, I've posted a preview clip of Maddow's segment airing tonight about slain LGBT Ugandan activist David Kato.
Visit msnbc.com for breaking news, world news, and news about the economy
And here's Maddow's preview of tonight's segment on slain Ugandan LGBT activist David Kato:
Visit msnbc.com for breaking news, world news, and news about the economy