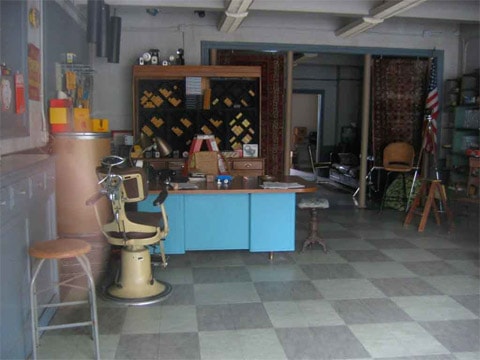 575 Castro as recreated for the Gus van Sant biopic Milk.
Following concern from activists that the Human Rights Campaign was turning Harvey Milk's old camera shop at 575 Castro in San Francisco into a boutique, the Trevor Project announced today that it would be partnering with HRC to operate a Lifeline call center from the site:
"Today, The Trevor Project, in collaboration with the Human Rights Campaign announced a long-term partnership to operate a crisis and suicide prevention Trevor Lifeline call center along with an HRC Action Center and Store from the site of Harvey Milk's Castro Camera. This exciting new partnership to harness Harvey Milk's legacy at this historic location is thanks in part to the grassroots support of local San Francisco leaders, including Harvey Milk's close friend and campaign manager, Anne Kronenberg. Cleve Jones, Frank M. Robinson, the Academy Award®-winning writer of "Milk" and Trevor Board Member, Dustin Lance Black, and David McFarland, Chair of the Board of The Trevor Project have each made statements in support of this new and exciting endeavor."

Said Jones: "It is wonderful that Harvey's message of hope will again emanate from the site of Castro Camera. He spoke often of our responsibility to our young people and experienced first-hand the pain of losing loved ones to suicide. The next time a frightened gay kid from Altoona – or anywhere – calls out for help, that call will be answered by a Trevor Project volunteer in Harvey's old store. I think he'd approve."
Jones had earlier been critical of HRC's planned use of the site as a boutique, as had former Milk speechwriter Robinson, who told the  Bay Area Reporter:"To start selling Harvey Milk coffee mugs, Milk condoms, whatever merchandise … for God's sake no. It is a cheapening of Harvey's image. Harvey essentially gave his life for the gay community and for anybody to go in there and make money off of his image by selling cheap trinkets, I am sorry that is a no-no in my opinion."
Robinson expressed praise for the new partnership today: "I can't think of a better – and more needed – use for the old shop.  In growing up, I had two gay friends who committed suicide and I myself had times when I contemplated it.  For all those who work with the Trevor Project, my utmost admiration and thanks.  I only wish you had existed when I was young, confused, gay and desperately needed somebody to talk to.  My heartfelt thanks and admiration for all concerned."
Trevor Project Executive Director and CEO Charles Robbins adds: "Our friends at HRC will cover the costs of installing the call center, will prominently feature The Trevor Project signage in the HRC Action Center and Store, and will provide an internet kiosk for LGBTQ youth to access suicide prevention resources and connect to TheTrevorProject.org. In addition, HRC will make a $10,000 annual donation for the next three years to The Trevor Project, whose mission is to build community and inspire positive change for LGBTQ youth."