Before the holidays, I posted about Virginia Del. Bob Marshall (R-Prince William, pictured) and his attempt to ban gays from serving in the Virginia National Guard.
A House committee has killed the measure: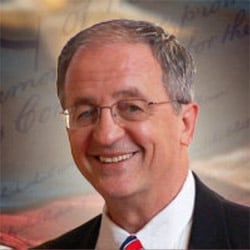 The House Rules panel dispatched House Bill 2474, the proposed ban sponsored by Del. Robert G. Marshall, R-Prince William, over what members called practical considerations.
Del. Bill Janis, R-Henrico, said different standards for members of the state's Guard versus other service members could present a "management and leadership nightmare" if they were to serve together.
And he questioned the effects of such a change on federal funding.
Marshall said he didn't agree with the management concerns and argued that the state already has some different standards for the National Guard than the U.S. armed forces without triggering funding disruptions.
Virginia Attorney Gen. Ken Cuccinelli (R) has also written that the federal government could withhold more than $200 million in funding for Virginia's National Guard if the state bucked federal policy, a concern cited by several committee members. McDonnell has said he believes Virginia should follow federal policy.
The same subcommittee committee also voted to kill a bill proposed by Del. Joe Morrissey (D-Richmond) to require the guard to follow federal recruitment standards.
Morrissey left the meeting steamed after House Speaker Bill Howell (R-Stafford), who chairs the committee, allowed the group to vote before he'd presented the bill.