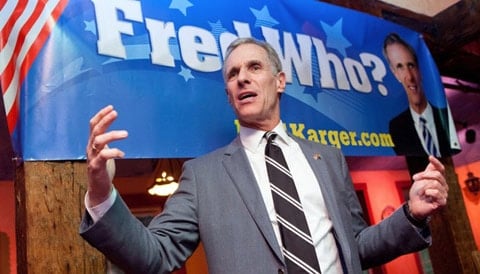 Activist Fred Karger, who is exploring a run for president, gets a big profile in the Washington Post:
He wants young gay people to see him run for president. He'd be the first-ever openly gay presidential candidate for a major party if he formally declares. He can see himself as the moderate voice in a debate crowded with hard-liners.
He has visited New Hampshire more than any other presidential prospector in this young election cycle. This skiddy late-night ride from a gathering in Keene to his Concord hotel is part of his 11th trip to the state in the past year. He's slingshotting around, hosting tiny town halls, collecting volunteers one by one and arranging coffee dates with policy experts, academics and state politicians.
This is not a stunt, Fred insists.
Karger recently ran an ad in New Hampshire exposing NOM's anti-gay tactics. Check it out here.
The WaPo is also running a poll halfway down the page on whether or not America is ready for a gay president. As of this posting, the 'yes' column was 47%, the 'no' column 54%. Maybe we can change that.