Those of you in L.A. who love theatre should make sure not to miss 33 Variations before it closes on March 6. I saw it when it was on Broadway and Jane Fonda gives a truly stunning and moving performance.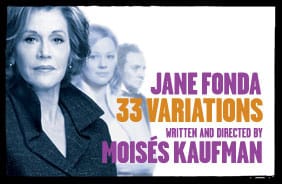 In the play, written and directed by Moises Kaufman (The Laramie Project), a Beethoven scholar (Fonda) is driven to solve the genius' greatest mystery while her own life crumbles around her. The play is underscored live each night by acclaimed pianist Diane Walsh.
Right now at Big Gay Deal™ we're offering a chance to win one of three pairs of tickets to the March 4 show at 8 pm.
$49 discount tickets are also now available to Big Gay Deal readers for the final performances, presented by Center Theatre Group at the Ahmanson Theatre.
Sign up to win HERE.