More details are coming out about the "personal disagreement" cited by Nsubuga Enock, the man who confessed to the killing of LGBT Ugandan activist David Kato (pictured), from a police source: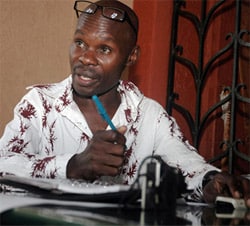 "We have taken him to Mukono Magistrate's Court to record an extrajudicial statement," the source said. "He told us that he killed Kato after he failed to give him a car, a house and money he promised as rewards for having sex with him," the source said.
Kato is alleged to have bailed the suspect out of Kawuga Prison on January 24, where he been remanded on charges of theft of a mobile phone. The suspect told police that he stayed with Kato for two days. He accused the deceased of having sex with him and promising to pay him during the period.
The suspect allegedly told the police he got tired of having sex with Kato but the latter would not have any of his excuses. "The suspect said he left the bedroom, went to a store and picked a hammer which he used to hit him [Kato] while he was still in bed," the source said. The death of Kato was condemned by the international community as an attack on the gay community.