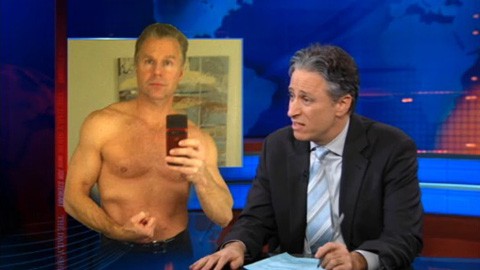 Jon Stewart took on the saga of GOP Rep. Chris Lee (R-NY), who resigned abruptly last week after Gawker published shirtless photos the married congressman had been sending to a woman (not his wife) on Craigslist.
Watch, AFTER THE JUMP…
BTW, new details have emerged in that story:
"Ex-congressman Chris Lee's flirtation with a woman didn't happen when he was "relaxing at home" as he claimed when he sent his topless photo to Craigslist crush Yesha Callahan. Sources say Lee was at the Baltimore Waterfront Marriott with House Republicans for the 2011 Republican Retreat on Jan. 14. After a lecture on "intelligent use of information technology" which clearly didn't sink in — and a few drinks at a pub near the hotel with Rep. Duncan Hunter, Rep. Bill Shuster and Rep. Tom Rooney, Lee headed back to his room, a spy said, just in time to send a few flirty messages to Callahan."
Watch Jon Stewart's take on the Chris Lee story, AFTER THE JUMP…