Director Clint Eastwood tells the Wall Street Journal that he was interested in directing a forthcoming biopic of J Edgar Hoover specifically because the screenplay doesn't address FBI founder Hoover's rumored homosexuality.
WSJ: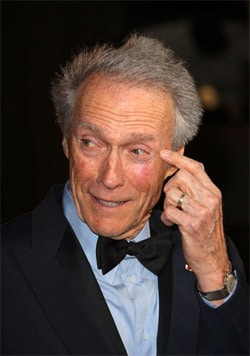 The Hoover screenplay was written by Dustin Lance Black, the Oscar-winning writer of the 2008 film "Milk" about the life and 1978 murder of gay-rights activist and San Francisco City Councilman Harvey Milk. When I ask if the screenplay addresses reports by former FBI employees that Hoover was a cross-dresser and perhaps a closeted homosexual, Mr. Eastwood says not really. In fact, what attracted him to the screenplay was the fact that it "didn't quite go down that road."
Eastwood's statement appears to directly contradict something screenwriter Black said back in March to the NY Post:
The movie will follow Hoover's career, from founding the FBI in 1935 throughout his long tenure as director, but what many people want to know is if "Hoover" (working title) will address some of the more colorful aspects of his life. You know, like the rumors that he was a closeted homosexual and avid crossdresser.
"Well, look who you're talking to," Dustin told PopWrap with a smirk. "I wrote the script … what do you think?"
And Social Network star Armie Hammer, who has been cast opposite Leonardo DiCaprio as Clyde Tolson, Hoover's secret lover, told E! last week that the script deals with it directly:
Said Hammer of the script: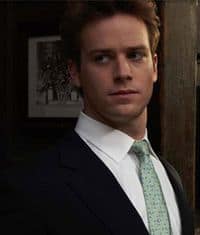 "It's not a kissing scene—it's a ton of kissing scenes…I'm so excited to work with Clint, and from what I hear, he's not the type of director who has a ton of rehearsals and takes. I think we're just sort of thrown in there and have to make it happen….I actually just met [Leo] for the first time Saturday at the DGA Awards. Sure, we talked business…He's a talented actor. I'm not nervous or afraid of it being awkward. The script is great. The scenes are in there for a reason. I'm really excited….Yeah, you hear that, Leo? Pucker up!"
The blog Band of Thebes asks some relevant questions:
Could the writer of The Journey of Jared Price, Pedro, Milk, and the narrator of8: The Mormon Proposition really have wanted to explore Hoover's life and ignore his closeted pathology? Or did Eastwood degay it? Or is he engaging in publicity spin, downplaying that part of the film so it won't be perceived as a gay movie? 
Inquiring minds want to know.
UPDATE: Black responds.
"To think that somehow you're going to a make a movie about somebody like J. Edgar and you're not going to learn what's in his heart, that's just not going to happen in a script that I write…It's unfounded [the idea that the movie is being de-gayed.]"
"I think [Eastwood is] referring to the fact that he's not going into the stereotypes of who Hoover was because they are clownish, they are comic book and they reek of homophobia and he's not going to do that. I agree with that. It won't be going into anything that is a gay stereotype, especially that was used in that day to bash gay men. It won't be going into that because it's not accurate and it's not true. It will deal with sexuality in a far more human, realistic way."