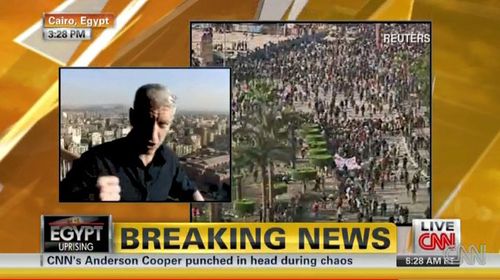 Anderson Cooper reports that he and his crew were attacked by a mob in Cairo as the protests escalate.
Violence has broken out between anti-Mubarak and pro-government supporters:
By early afternoon, an Associated Press reporter saw Mubarak supporters break through a human chain of anti-government protesters trying to defend thousands gathered in Tahrir. They tore down banners denouncing the president and fistfights broke out as they advanced across the massive square in the heart of the capital. A number of those involved were injured and some were bleeding from their heads.
The anti-government protesters grabbed Mubarak posters from the hands of the supporters and ripped them.
The confrontations began just hours after a military spokesman went on national television and asked the protesters to disperse so life in Egypt could go back to normal. During the clashes, soldiers and tanks who have been guarding the square did not appear to intervene.
Some video of the clashes and Anderson's description of the attack, AFTER THE JUMP…
Anderson Cooper describes the attacks:
Footage of some of the clashes, which, despite the title of the clip, doesn't have anything to do with the attack on the CNN crew: