CBS' Lara Logan stripped, beaten with poles…

Gay mayor of Redondo Beach to make run for Jane Harman's congressional seat?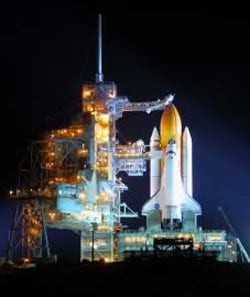 Shuttle mission a go for February 24.

Sarah Palin shows off her teabagger pumps.

Kathy Griffin to guest star on Glee: "Although a casting breakdown that's being passed around like a love note in third period suggests that Griffin will be playing a Sarah Palin type, my source tells me that Tammy Jean, theD-Listed liberal's home-schooling Tea Party candidate character, isn't really anything like the controversial former Alaskan governor."

Guiding Proud: New group hopes to connect LGBTQ youth with role models.

Atlanta Journal-Constutional shines light on Chick-fil-A's anti-gay ways: "It's not a Christian company," said Dan Cathy, Chick-fil-A's president. "It's a company that operates on biblical principles. … They really work."

WATCH: Glee's Cory Monteith plays with Ellen's hidden camera.

NAACP's Julian Bond: Maryland must end marriage discrimination.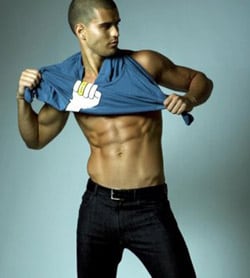 Male model fix: Emil Dostovic.

British gay Muslims seek Islamic weddings: "Sarah and Asra know their marriage is unorthodox, and the idea of a gay nikah would be rejected by the majority of Muslim scholars, but Sarah says it is nobody's business."

The most detailed 3-D model of the HIV virus to date.

Rolling Stone (text) previews six new songs from Born This Way.

NASA census estimates 500 million inhabitable planets in our galaxy: "Kepler science chief William Borucki says scientists took the number of planets they found in the first year of searching a small part of the night sky and then made an estimate on how likely stars are to have planets. They figured one of two stars has planets and one of 200 stars has planets in the habitable zone."

Sarah Ferguson snubbed at Royal Wedding, but her daughters are invited.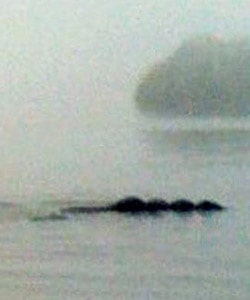 Mysterious creature spotted in English lake…

Ugandan asylum seeker 'BN' drops lesbian claim: "…now lawyers acting for the woman, who can be identified only as "BN", have submitted a new appeal on her behalf – which no longer hinges on her sexuality. Instead, they say that because she has appeared in newspapers claiming to be gay, she would inevitably be at risk in Uganda whatever her true sexual orientation. The change of tactic comes after a judge examined evidence in the case and concluded that BN was, in fact, heterosexual."

Man sent to hospital after falling down stairs at gay club in Edinburgh, Scotland: "The 40-year-old fell from the pavement outside GHQ nightclub in Picardy Place, Edinburgh. He went down the steps into the basement area, landing outside the entrance to the club. He was taken to Edinburgh Royal Infirmary with serious head injuries after the incident at 1.15am. The man was later transferred to the Western General Hospital where his condition is described as serious."